The Junior Blues are delighted to offer a fantastic completion, open to all Junior Blues' members.
We want to spread the Chester Football Club name far and wide and you can play a part in doing that. Going on holiday to Spain? A summer of fun in the U.S.A.? Or maybe just enjoying everything the U.K. has to offer? Get a snap of yourself in your Chester shirt while on holiday, and share it with us on our Facebook, Twitter or Instagram pages using #BluesSummer. Every entrant will be put into a draw and a name will be pulled at random.
The prize? A fantastic mascot experience for the coming season. You will get to meet Jon McCarthy and his players before the game, have a tour of the ground and then get to lead out the lads before kick-off. we will also throw in two adult tickets.
The closing date for this fantastic competition is Sunday 4th September 2016, so get those entries in.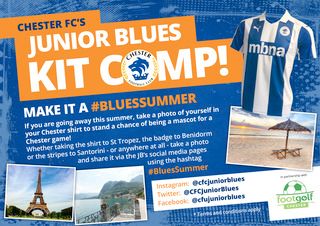 *By entering the competition you consent to us publishing your name and/or photograph if selected in our Newsletter, Magazines, Programmes or on our website or via any other method, including our social media channels. We will NOT publish any other personal details including addresses, telephone numbers, or email details or pass on any details to a third party without your Parent's/Guardian's written consent. Please note we do not have alternative prizes to those advertised. Draw will be made on Tuesday 6th September and winner will be notified by telephone or email. Selected game to be decided with agreement of Chester Football Club.