Easter Monday is set to be a big day of Fundraising at the Swansway Chester Stadium prior to Chester FC's home fixture against Brackley.
A sponsored walk will take place to raise funds for the club's Academy. Registration will take place from noon in the Blues Bar with the walk starting at 12:30. Details are in the graphic below.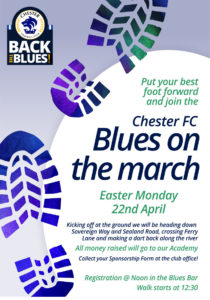 Members of the Fundraising Working Group will also be selling tickets for an Easter Raffle prior to kick off with all proceeds going towards the Squadbuilder scheme as we look to provide Bern & Jonno with a war chest for next season. We have collected many great prizes including complementary pairs of adult tickets to Chester Zoo courtesy of our main sponsors MBNA.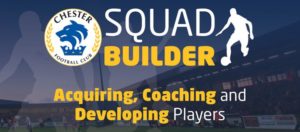 Please support these initiatives if you can.
Our City Our Community Our Club