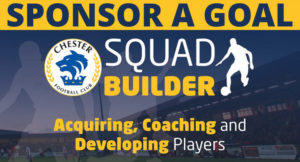 To raise funds for Squadbuilder, we are inviting people to Sponsor a Goal! A goal for Chester FC that is… But you don't need to pledge for a goal, it can be for anything you like! For example:
Goals scored by the team or an individual player
penalties scored
goal difference
points achieved
hat-tricks
clean sheets
penalties saved
Where permission is given, pledges wil appear in Match Day programmes to encourage others.
For more details on how to pledge, visit the Sponsor A Goal webpage