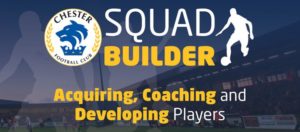 Last night (16th April), a function was held in the Blues Bar at the Swansway Chester Stadium to enable the CFU Board to give thanks to all those who had contributed to the Squadbuilder scheme either via monthly payments or through buying a "Claim Your Turf" plot. People who had taken part in these initiatives had been invited to the evening.
Following an introduction from Paul Bodman, Grenville Millington gave a very entertaining talk which was full of amusing tales from his time playing for the club during the 1970s. The current first team managers, Bern & Jonno, then joined us and took part in a Q&A session. As usual, the duo were open and insightful.
They felt this season had been one of consolidation, particularly as at the start of it the club was still recovering from the financial crisis. Furthermore, they joined part way through the preceding off-season therefore with more time to plan ahead this time around they are confident of stepping up a gear.
All those invited were entered into a free draw for a football signed by the Chester FC squad. As many of these people are part of the Exiles group, it seemed appropriate that the draw was won by someone from Cardiff.
At the end of the evening, the players who had been on the pitch training came in to mingle with those present while there was also the opportunity to enjoy a tour of the stadium.
Paul Bodman kindly donated a framed print of the Claim Your Turf graphic for the 2018-19 season which will be hung in the Blues Bar.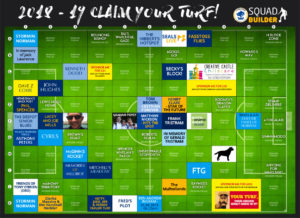 The CFU Board wish to thank all those involved for making the evening so enjoyable.
It would be easy to believe that paying £5 each month into Squadbuilder has limited impact however the scheme is on schedule to raise over £8,000 this season. This is most impressive, especially as only around 80 people have been contributing.
If more people signed up now, the managers would be able to plan ahead with a much bigger budget for next season. The club is of course grateful for all donations, particularly in recent times, but we wish to remind fans that they can continue to have a big impact on the fortunes of Chester FC for a small outlay each month.
The details for signing up for Squadbuilder can be found on this page http://www.chesterfc.com/squadbuilder/
If you would like to sponsor a Claim Your Turf plot for the 2019/20 season, please email fundraising@chesterfc.com