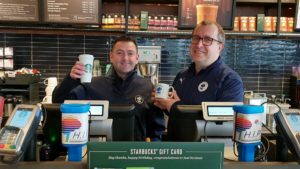 City Fans United and coffee shop giant Starbucks have joined forces to bring CFU members a special discount from now until the end of the season.
Starbucks Greyhound Park are offering a 10% discount on all beverage purchases from their store on Sealand Road, on production of CFU membership cards when ordering in-store.
Dave Pike, store manager at Starbucks Greyhound Park, was delighted to offer CFU members the discount, "We wanted to support our local club and share it's community values. We look forward to welcoming Chester fans to Starbucks and wish the team all the very best for the season."
Jeff banks, CFU director of Fan Engagement & Membership said, "It's fantastic to have Starbucks on board with us. They are well known throughout the world of course, and for a company of that size to give our members a 10% discount is great to see and we are extremely grateful to Dave and the team for wanting to get involved in this way."
It is hoped that this will be the catalyst to further discounts being announced for CFU members, "We would certainly like to invite more businesses to team up with us and offer our 2000+ members a discount on their products and services, and I'm sure many of our members shop both in the City and online. Now is the time to get involved!" said Banks.
If any businesses would like to offer members a discount, please contact Jeff Banks via email to FEWG@chesterfc.com