Have a late Spring clean out and get cash for your unwanted goods at the Fundraising Team's Car Boot Sale this Bank Holiday Monday (28th May)… and the season ticket office will also be open while the event takes place if you haven't already made your purchase for 2018/19.
Sellers are welcome to set up to sell from the rear of their vehicles from 9 am – £10 per car.
Alternatively, grab yourself a bargain at the Car Boot Sale.
Buyers are welcome from 10 am – free entry!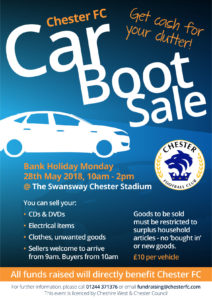 Thanks to Betty Fisher from the Inclusive Blues, a Secondhand Bookstall will be part of the Car Boot Sale. The club's ticket office at the end of Bumpers Lane (postcode CH1 4LT) is accepting donations of books throughout this week ahead of the event.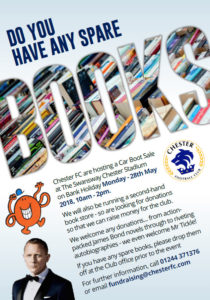 These events require a fair amount of manpower to put on, if anyone can help with setting up and stewarding (from 8:15 am) please email fundraising@chesterfc.com