During the End of Season Party on Saturday, 18th May there will be an auction for items that money-can't-buy to raise funds for Chester FC.
Sealed bids for the following lots can be sent in advance to fundraising@chesterfc.com. Bids to arrive by Noon BST on 18th May.
Lot 1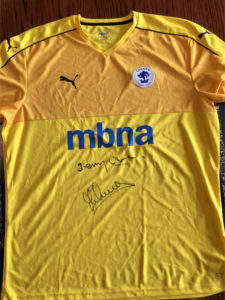 Chester FC 2017/18 away shirt signed by Michael Owen and his father, Terry, on the evening of the Colin Murray's AllStars match 15th February 2018.
Lot 2


The opportunity to be the first to receive the new Chester FC 2019/20 home shirt after it is launched this Summer. People who have seen the initial mock-up of the design advise that it's a stunner (and anything but grey!)
Lot 3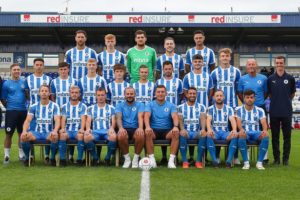 Become part of the Squad! You will be included in the official 2019/20 squad photo and appear in the Chester FC player list on the back page of every home programme throughout the season
Lot 4


You and a guest will join 2 members of the Chester Former Players Association for a round of "Four Ball" at Curzon Park Golf Club