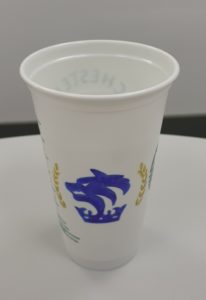 Starbucks Greyhound Park in Chester have once again thrown their support behind City Fans United and Chester FC by launching a limited edition reusable cup.
20 of the environmentally friendly cups have been produced with the CFU emblem and Chester FC logo on them and will be on sale in the Chester FC club shop on Saturday 7th September.
A local artist based at Chester University has been involved in the design work.
Dave Pike, store manager at Starbucks Greyhound Park said, "We're delighted to produce this limited edition cup that Chester fans can use over and over again whilst knowing they are helping the environment at the same time as enjoying a drink from our store. We're also delighted to further our partnership with the club and City Fans United, and look forward to more exciting initiatives going forward."
Jeff Banks, director of Fan Engagement said, "It's great to have Starbucks producing these cups for the club, and I'm sure they will go down extremely well with our fans. I'd like to thank Dave and the team, who have already been very generous in offering beta members and Chester FC season ticket holders a 10% discount on drinks from the store. They have also been really supportive towards our half time challenges as well."
The cups with lids, will be on sale for £5 in the club shop before tomorrow's game against Guiseley.